Post date: 4th July 2023
Written by: Elliott Fluin
Did you know that Ace Comics are celebrating their 40th anniversary? Over these 40 years, Ace Comics has become the one stop shop for comics, collectables, and memorabilia. Read on to find out about what they've been up to these past 40 years and a little bit of history ⬇️
ACE COMICS CELEBRATES IT'S 40TH ANNIVERSARY
Our first store was 34 Military Road and opened on July 4th 1983. It was one front room of a terrace house turned into a shop front!
Things quickly picked up and we moved to 6 Museum Street in the City (then town) Centre in 1985. Still a very small room with stock literally hanging from the ceiling. With interest continuing to grow we moved to St Johns St in 1991, a bigger store, opposite the Playhouse 🍺
Still Interest in the comics industry continued to grow and in 2000 the big jump into the High Street took place when we took over the old Markham's building (63/64 High Street).
From 2000 to 2007 we helped with the then premier Comic Convention which was held in Bristol each year. Martin Averre was the host of the Eagle Awards which were presented for the best comics, writers, artists and more. This coincided with Martin writing a column in 'Comics International' the then premier printed voice for comic enthusiasts! 📰
Soon after the store opened we started a mail order business selling old comics to start with and then progressed to taking 'advance' orders for new comics. Incredibly there are over 2000 comics published each month in the USA. This original ACE Comics Advance Order service was created in 1984, providing customers with the option to preorder their comics, graphic novels, magazines, books and merchandise every month via an order form and therefore guaranteeing they would receive the items when released.
We have provided customers from all around the world with a great, flexible service and competitive prices on comics and graphic novels. Now thirty-nine years on, this service is still up and running and supplies thousands of customers across the UK and even Europe 📦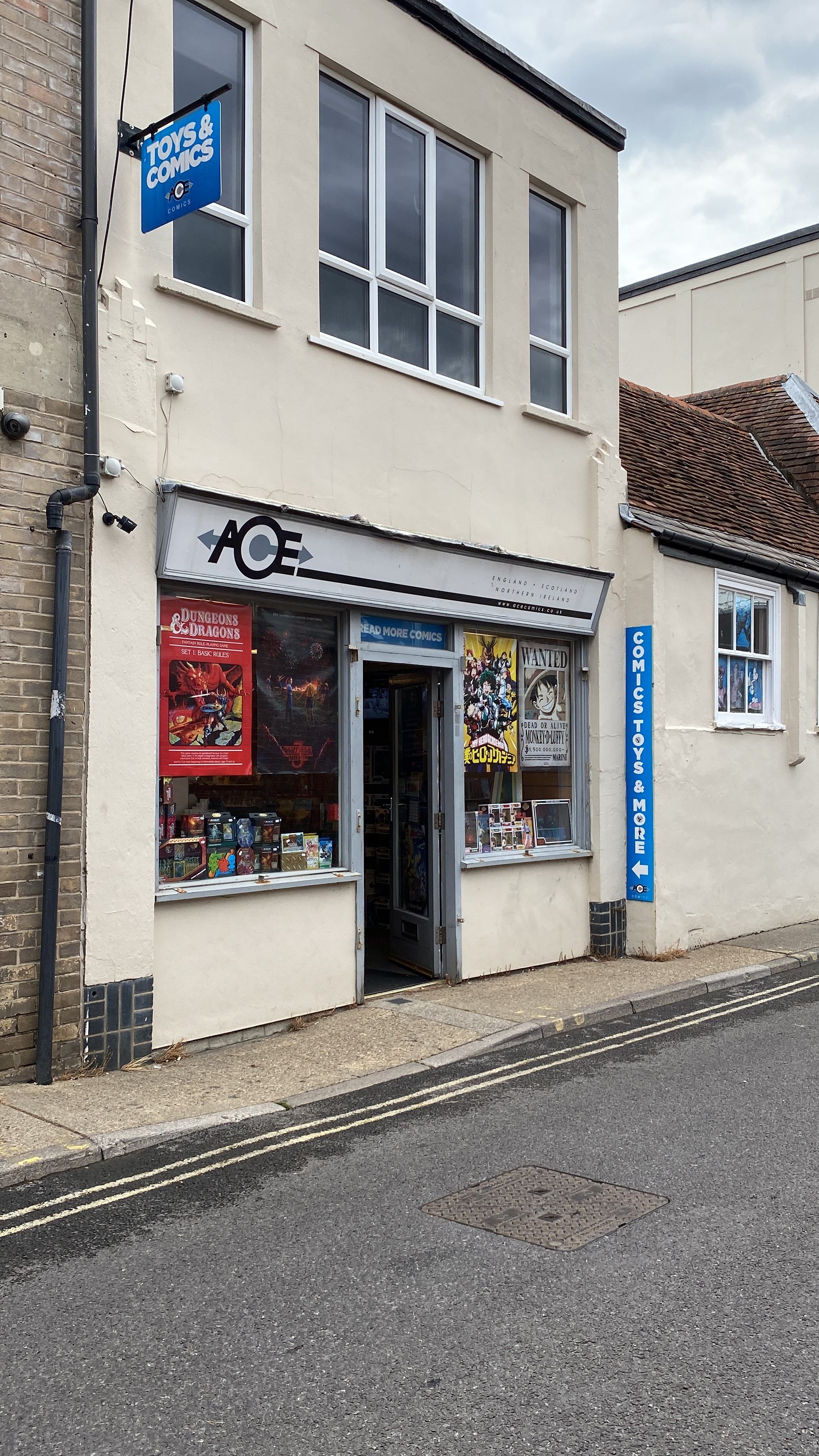 Up until 2010 we had expanded and had stores in Sudbury, Richmond, Southend, Exeter and Glasgow. In the economic collapse of 2010 we found trade fell away and we had to shrink back to just two stores. Our flagship Colchester store and the Southend store.

During this year we helped inaugurated 'Invasion Colchester' as a small event outside our store. This has grown over the years to a city wide event that brings up to 20,000 people into the City Centre.
With more time available due to not running all the extra stores we also turned our hand to giving talks in local schools about comics and providing books for school libraries. This is an on-going project which helps encourage young and teenage children to read 📖

The latest string to our bow is our ever growing 'Gaming Club' which has 100s of members who meet each Wednesday evening to play Collectible card games, such as Magic The Gathering, Yu-Gi-Oh and Digimon, or board games.
Comics & gaming are here to stay and will grow stronger with each year that passes. Here is to the next 40 years! 🎉

You can find Ace Comics at 6 Museum Street with everything comic related from collectables, to classic comics and the latest releases. More details about Ace Comics here. Plan you visit to Colchester City Centre using the InColchester Travel planner available here 🚗