Into
Colchester Garden Festival
Colchester Garden Festival
RETURNING FOR 2023! The OFFICIAL guide for the Colchester Garden Festival.We're very excited to announce the Colchester Garden Festival will be coming BACK to Colchester this July-August! Come along and enjoy impressive installations, workshops, and activities in this month long event celebrating the environment, green spaces, and gardening.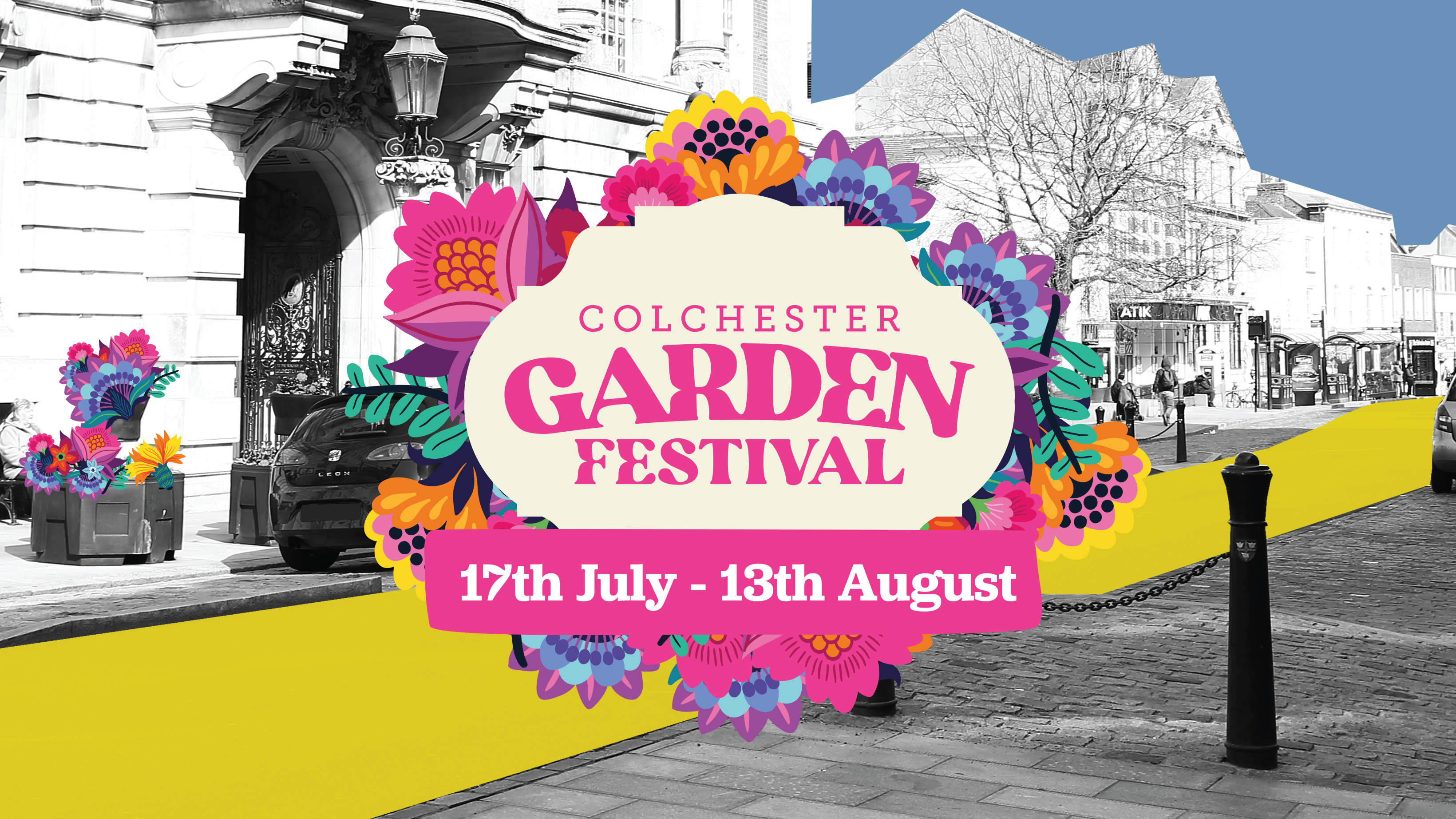 What to expect:
The Colchester Garden Festival will take place 17th July - 13th August. The OFFICIAL what's on guide.
There will be a mixture of free and paid events, including workshops, public installations and shows. Businesses in the City Centre are also invited to decorate their store fronts and create themed displays in line with the festival to brighten the town with wonderful floral and gardening displays.
School Tours
We're working with Lee Connelly, an Essex based gardener who's on a mission to get kids growing. We're thrilled that as part of the festival Lee is visiting schools in the Colchester area in March to run workshops and teach children the basics of how to get started growing and planting.
In July planters will be installed in the City Centre featuring planting from the schools. Keep an eye on our website and social media channels to find out more!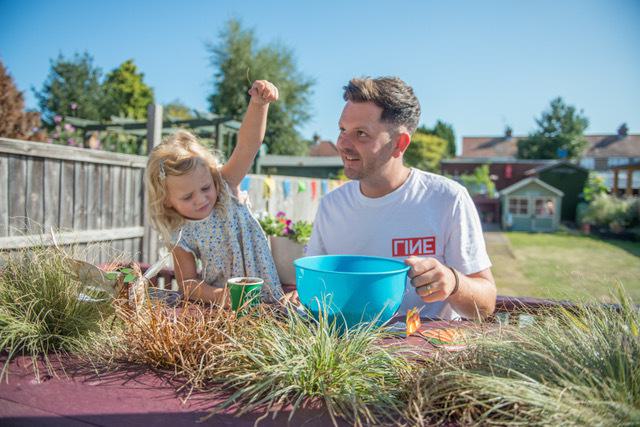 ABOUT LEE

Lee Connelly is The Skinny Jean Gardener. One of the UK's TOP 50 TV Gardening Presenters, from CBBC Blue Peter, BBC Teach, BBC Radio 1 and Extreme Gardening. He is a children's author of 'How to get Kids Gardening' and hosts The Sunday Times Best Gardening Podcast, Skinny Jean Gardener Podcast.
Lee is founder of School Gardening Success bringing primary school gardening education to the UK and House of Lords Horticulture Expert on Children & School Gardening.
You can find out more about Lee on his website.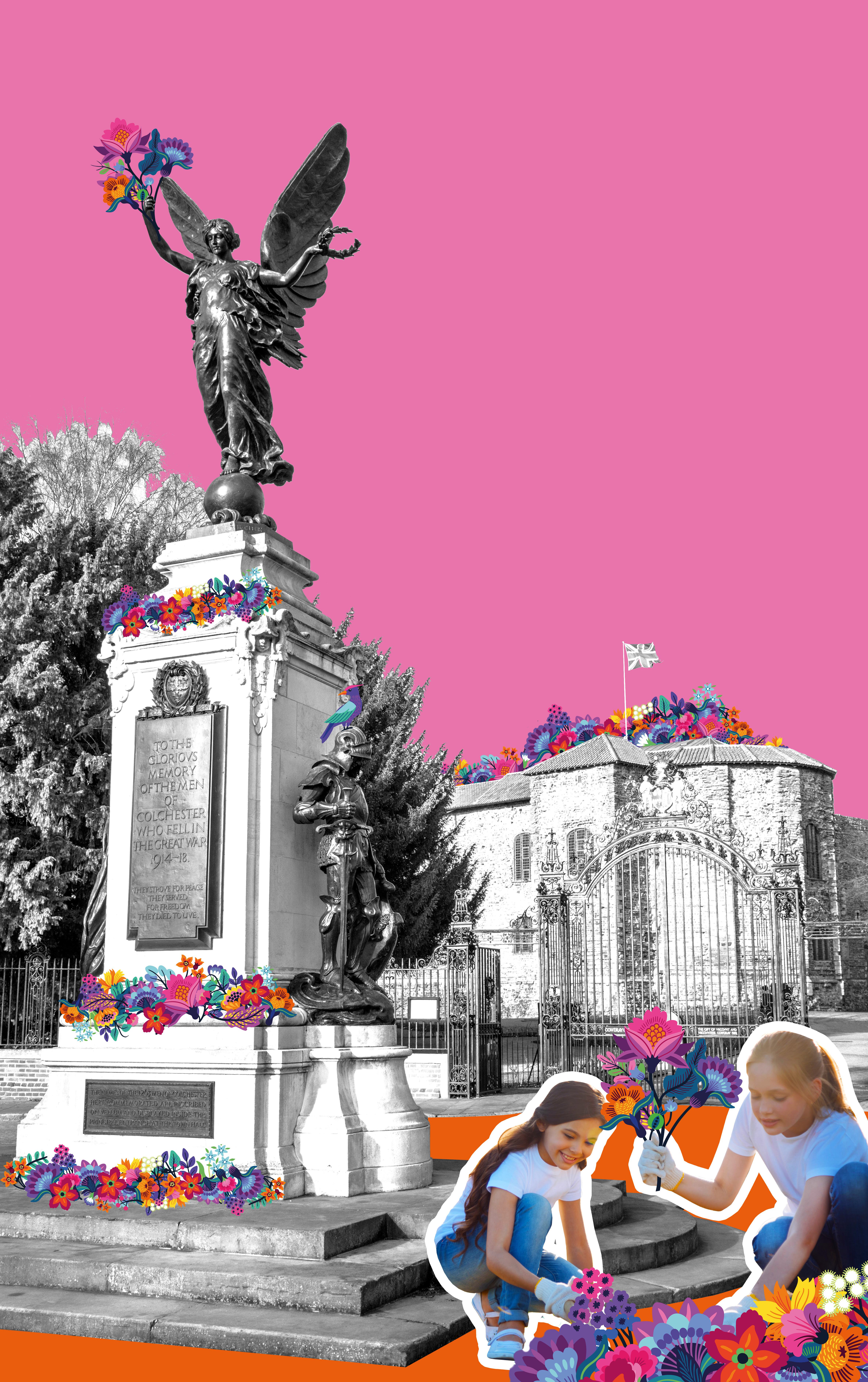 EXPLORE

Explore new and interesting ways to walk into the City Centre with one of our FOUR Trail Maps! CLICK HERE TO FIND THE MAP FOR YOUR AREA.
PLUS once you get to the city centre we have 30 gnomes hidden around Colchester City Centre to find! Each has their own unique name and story, so try to find them all. CLICK HERE TO FIND OUT MORE ABOUT THE GNOME HUNT.
Follow @InColchester to get updates when the gnomes are live in Colchester City Centre!


CREATE

Get your hands dirty and dive into gardening with Lee Connelly at one of our workshops teaching you how to plant and Grow your very own plants! A perfect FREE family activity for the Summer holidays.
Sow and Grow workshops will be happening at different venues across the City Centre throughout the Garden Festival. Learn how to sow seeds, look after your plants and bring wildlife into the garden. DATES AND LOCATIONS BELOW.


DISCOVER
Discover murals popping up in shop windows all over the City Centre, as well as flower displays, green spaces in the City Centre. There's so much to discover!

Keep up to date with what's on InColchester including the Colchester Garden Festival by following us on social media and signing up to our newsletter!
What's On: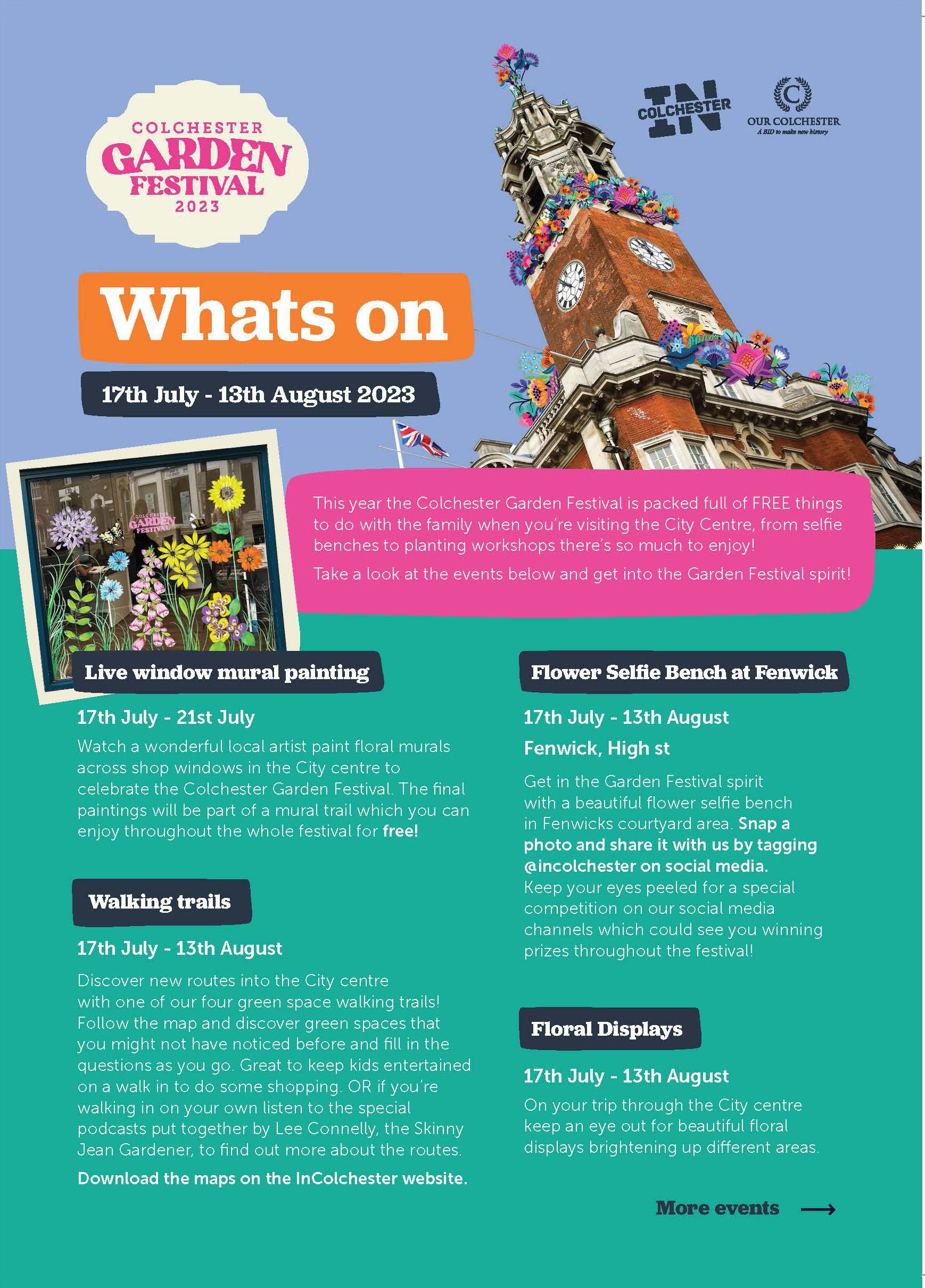 This year the Colchester Garden Festival is packed full of FREE things to enjoy with the family when you're visiting the City Centre, from selfie benches to planting workshops there's so much to enjoy!

Multiple Dates Available
Join Lee Connelly to learn about sowing seeds and helping our environment at one of his pop-up Sow and Grow events throughout the Garden Festival. Sow your own seeds and take them home with you to watch them grow!

17th July - 21st July
Watch a wonderful local artist paint floral murals across shop windows in the City centre to celebrate the Colchester Garden Festival. The final paintings will be part of a mural trail which you can enjoy throughout the whole festival for free!
17th July - 13th August
Get in the Garden Festival spirit with a beautiful flower selfie bench in Fenwicks courtyard area. Snap a photo and share it with us by tagging @incolchester on social media. Keep your eyes peeled for a special competition on our social media channels which could see you winning prizes throughout the festival!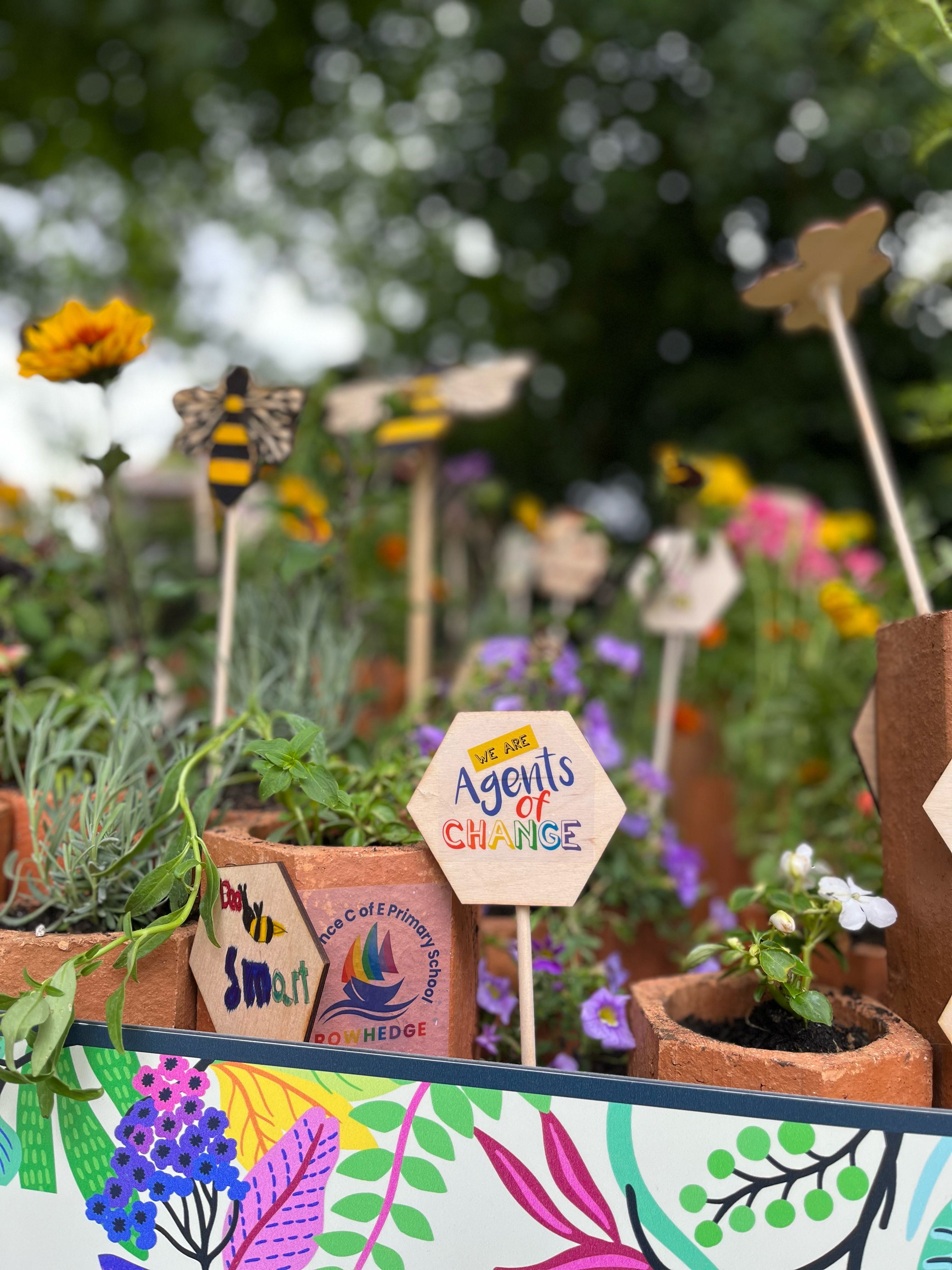 Floral Display
17th July - 13th August
On your trip through the City centre keep an eye out for beautiful floral displays brightening up different areas.
17th July - 13th August
Discover new routes into the City centre with one of our four green space walking trails! Follow the map and discover green spaces that you might not have noticed before and fill in the questions as you go. Great to keep kids entertained on a walk in to do some shopping. OR if you're walking in on your own listen to the special podcasts put together by Lee Connelly, the Skinny Jean Gardener, to find out more about the routes.
Download the maps on the InColchester website.
17th July - 11th August
Sunny the Bee Gnome and their friends have hidden in shop windows throughout the city centre and are getting up to mischief. Can you find all 10 large gnomes? There are 20 smaller gnomes scattered along the route too! Keep your eyes peeled and fill in your worksheet as you explore the City centre to round up all of the gnomes.
Download the worksheet on the InColchester website or pick up from selected locations in the City Centre.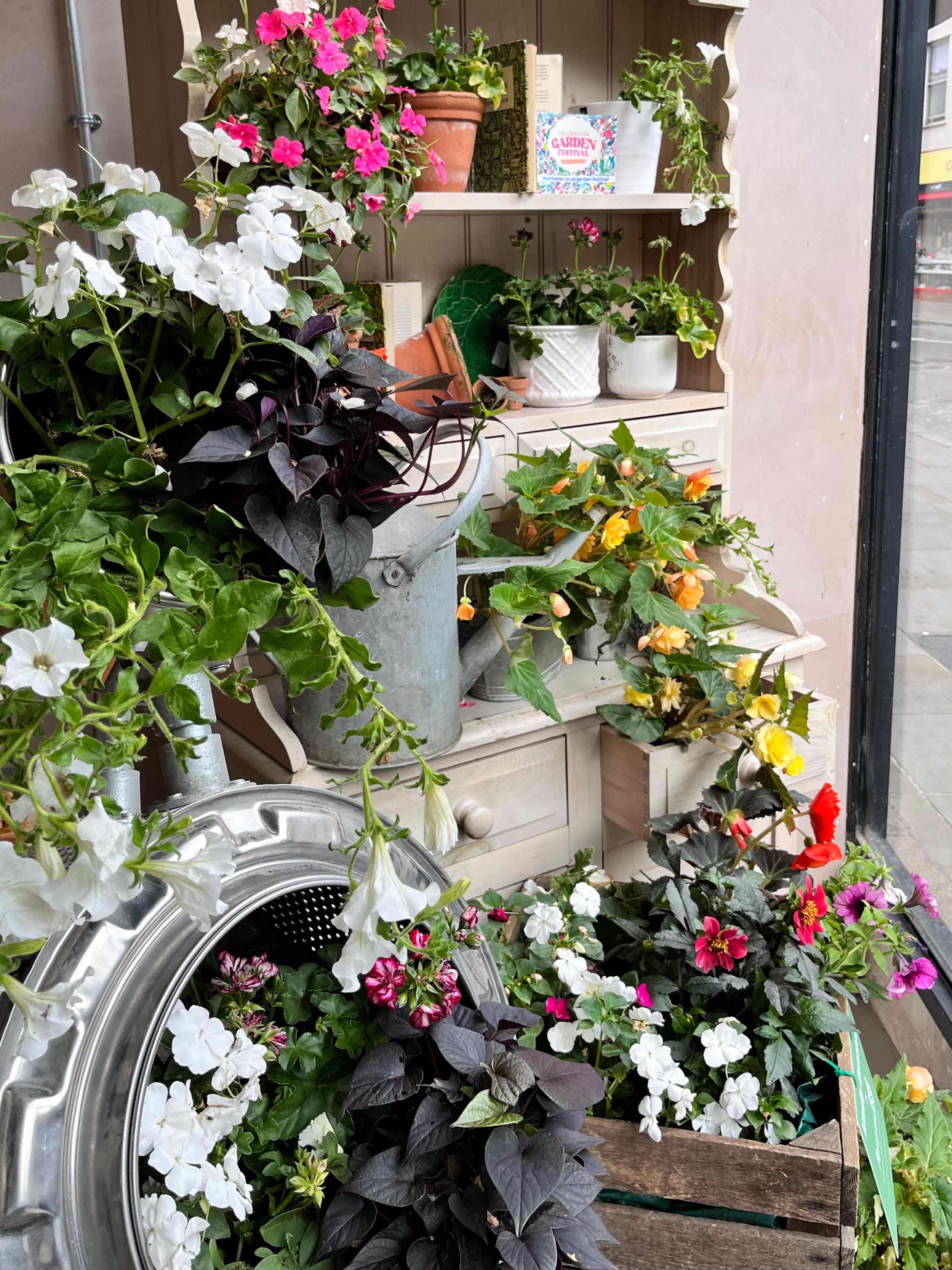 17th July - 13th August
Local primary schools have been busy bees working on their school show gardens this year! Their set theme was upcycling for wildlife and have all come up with unique designs to show off underneath the jumbo.

Stop by and have a look, and don't forget to vote for your favourite on the InColchester website!
17th July - 13th August
Businesses across the city centre are taking part in the Colchester Garden Festival with upcycling window displays! Plants have been kindly donated by Perrywoods Garden Centre and shops are tasked with using unconventional ways of planting to create gorgeous window displays. Vote for your favourite on the InColchester website!
A very big thank you to...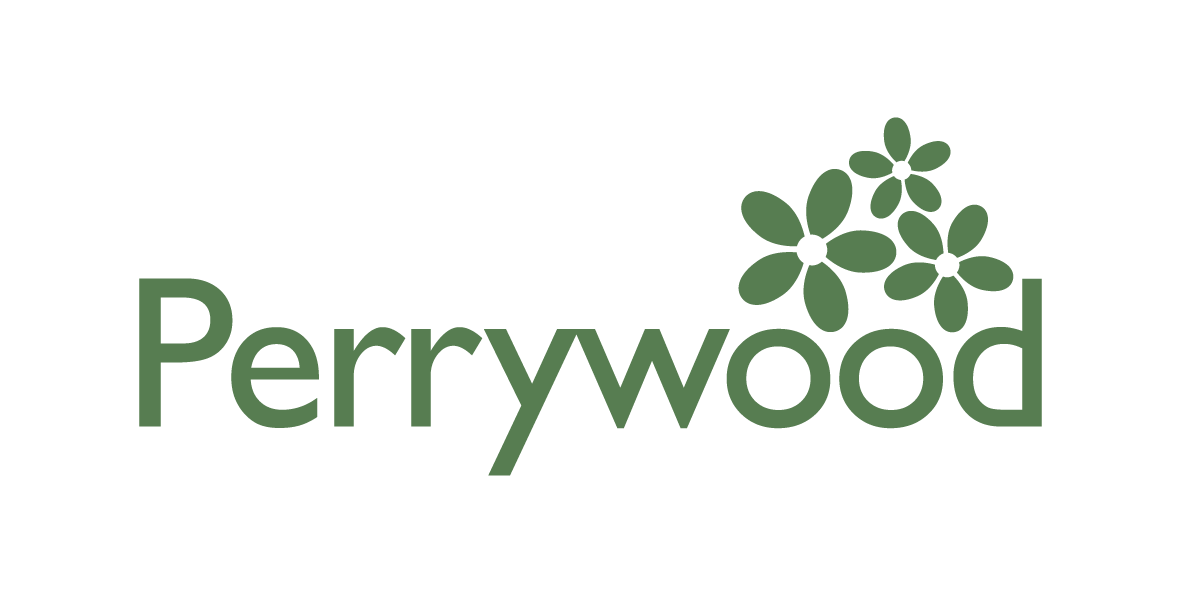 ...Perrywood Garden Centre for donating flowers & soil for the Colchester Upcycling Competition. This competition will have more details revealed soon, so keep an eye on our social media platforms (@InColchester) to see who wins!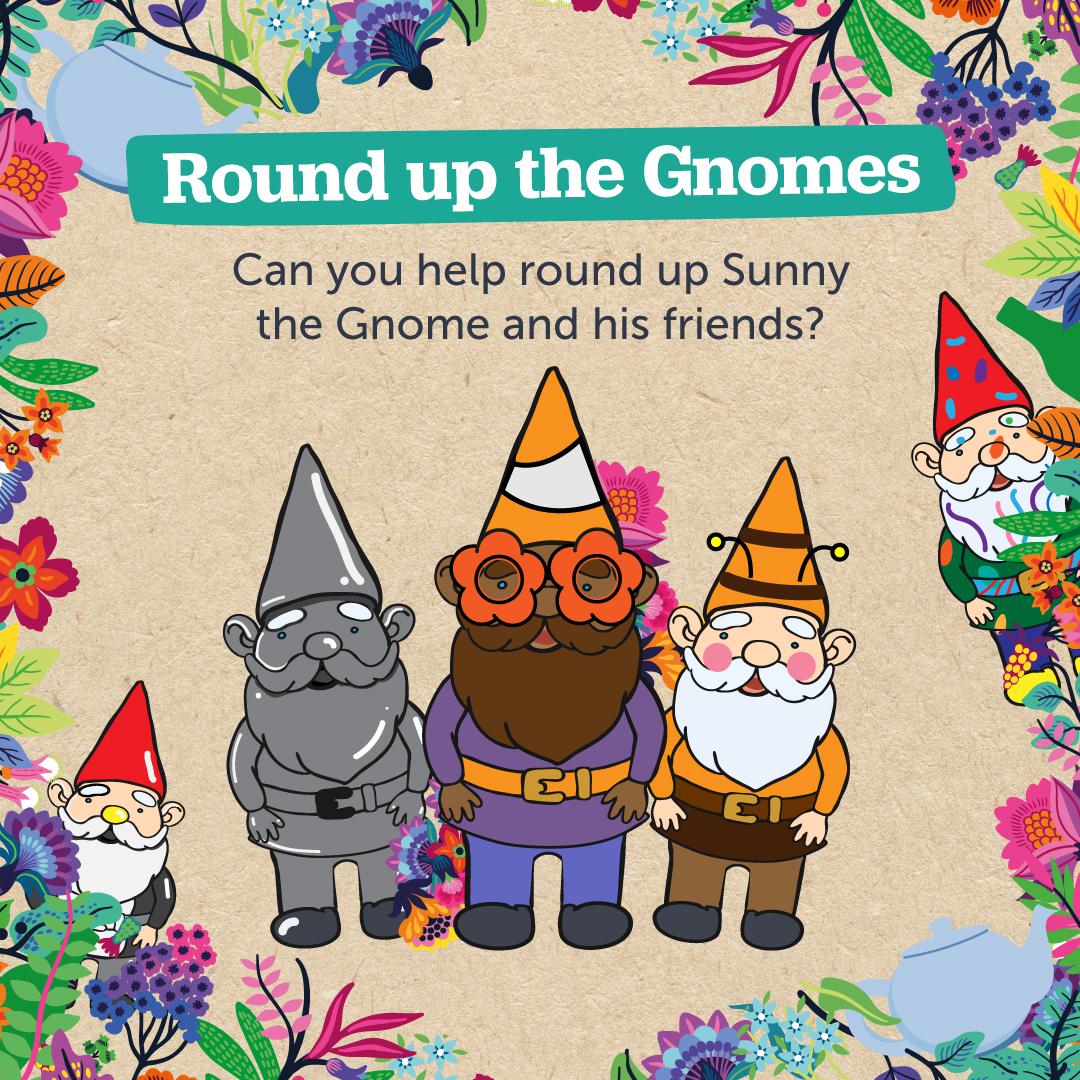 Help Sunny the Gnome round up their friends hiding in the City Centre.
There are 30 gnomes hidden around Colchester City Centre to find! Each has their own unique name and story, so try to find them all. CLICK HERE TO FIND OUT MORE ABOUT THE GNOME HUNT.
Painted by local artists and families each gnome has a unique backstory and design. Let us know which one is your favourite by tagging us in your adventures @InColchester