Post date: 24th June 2021
Written by: Jess Walker
We're launching the Colchester Gift Card later this summer with our business brand Our Colchester BID and in collaboration with Town and City Gift Card who create gift cards for locations across the country. We can't wait to show off the new gift card but first a bit of background to catch you up!
We launched the call for artists earlier this year for local creatives to be part of making the gift card. We wanted to make sure this card screamed Colchester and was easily recognisable for people who wanted to purchase and/or use it. We had some really excellent entries and we were spoilt for choice on what to take to the next level. After lots of discussions we finally settled on the initial design with a list of a few amendments to be done to really make it pop!
But why the Colchester Gift Card?
You can use this gift card in signed up stores throughout the town centre, currently some of the businesses signed up include Fenwick, Bill and Berts, Baccus, and Attitude.
It helps support the town centre! By choosing to use the gift card you're telling your local businesses that you value them being in the town centre and support them. Which is more important now than ever.
It's a great thing to get for the people in your life who are hard to buy for! A birthday or holiday coming up and you just know that whatever you get that person won't be quite right? Will they likely be making a trip into town to return the gifts they didn't want anyway? Might as well get them a gift card so they can get what they REALLY wanted, when they inevitably return the not-quite-right gifts.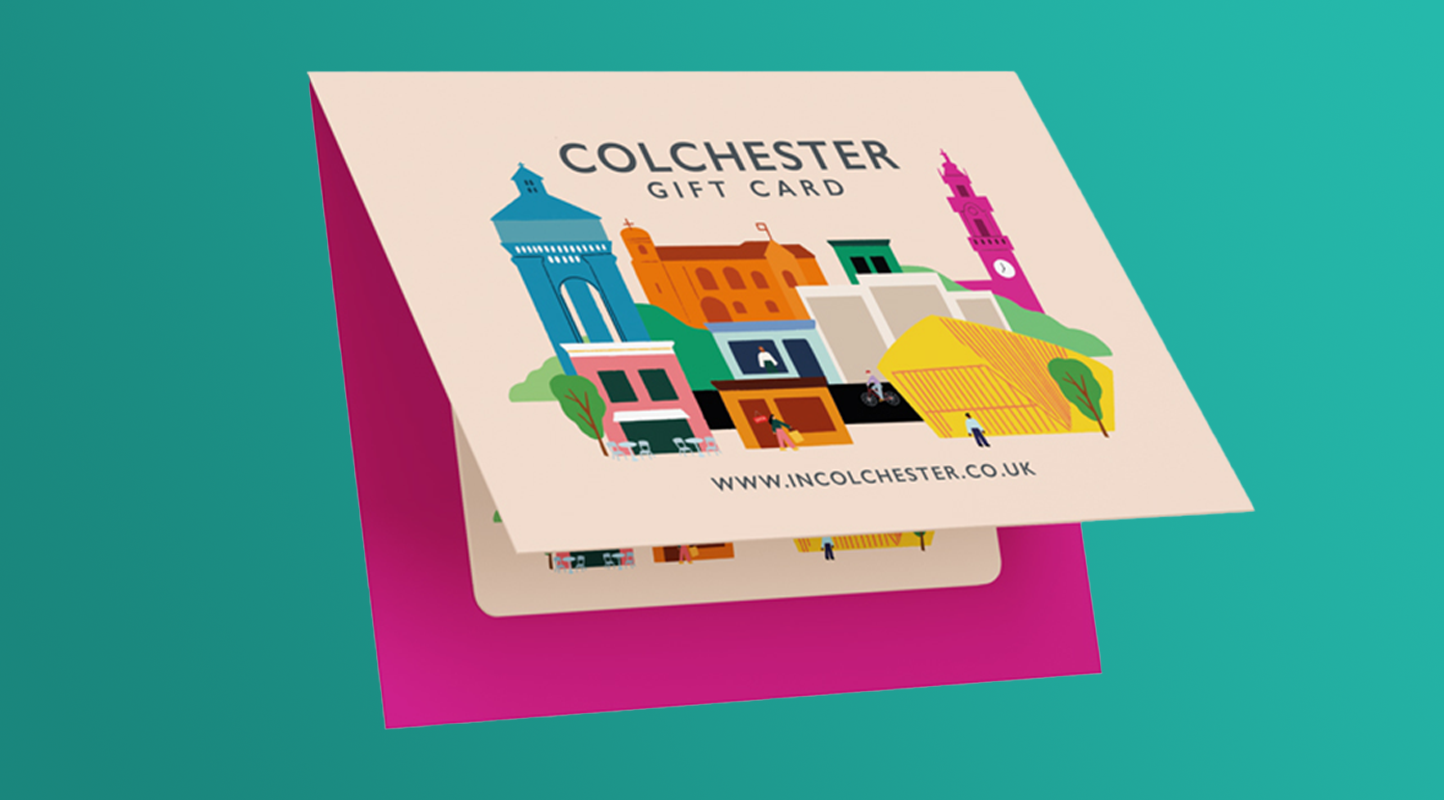 Plus keep an eye out for offers when using the gift card! We're always talking to businesses about how we can make your day so there will be lots of competitions and giveaways linked to the gift card!
Some fun facts about the Colchester gift card
The Gift Card industry is worth £7 Billion!
People tend to spend a little bit more than what's on their gift card which helps support our shops even more.
All money spent through a Colchester Gift Card goes directly to the business it was spent in.
We're working to make sure you can use the gift card across all types of businesses including restaurants and hairdressers!
It won't just be for spending in independents, we're working to get our big name shops accepting the gift card too, places like Fenwick are already on board.
It's better than Amazon (in our opinion), by using the gift card you're showing that you value the town centre as a place and as a community lets help keep our town thriving.
Is your favourite business not signed up to accept the Colchester Gift Card? Let us know or drop them a DM so they know you want them involved!