80's Live
Charter Hall
Sunday 24th March 2024 - Friday 15th November 2024
19:30 - 19:30
Prices
Standard - 24th March 2024
Min: £30.00
-
Concession - 24th March 2024
Min: £30.00
Standard - 29th March 2024
Min: £30.00
-
Concession - 29th March 2024
Min: £30.00
Standard - 15th November 2024
Min: £30.00
-
Concession - 15th November 2024
Min: £30.00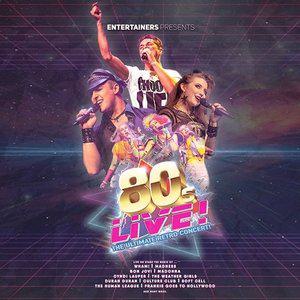 You've made it through the wilderness, somehow, and now We're Never Gonna Give You Up!

Get ready as we bring you the biggest 80s party show to tour the UK! '80s Live!

We will make you feel shiny and new as we travel back in time to one of the most iconic eras of music for the night out you have been dreaming of put your hands together and get into the groove as our live band Electric Dreams perform over two dozen chart topping anthems from artists including Wham, The Weather Girls, Culture Club, Rick Astley, Madonna, Duran Duran, Soft Cell, The Human League, A-Ha, Tears for Fears and more!

The ultimate '80s night out, so come dressed to impress as we spin you around and around for a night to remember.

Blending pop and soft rock, the show includes hits such as Girls just Wanna have fun, Edge of Heaven, Tainted Love, Love Shack, Living on a Prayer, The Final Countdown, Don't You Want Me Baby, Relax, Never Gonna Give You Up, Its Raining Men, Rio and the list goes on.

With our sensational cast and live band, this is just what the doctor ordered.

This is '80s Live!
`