Miss Mimple Meets the Ice Wolf
Headgate Theatre
Monday 8th January 2024 - Wednesday 10th January 2024
19:30 - 19:30
Location
14 Chapel Street North
Prices
Standard - 9th January 2024
Min: £10.00
Max: £15.00
Standard - 10th January 2024
Min: £10.00
Max: £15.00
Standard - 8th January 2024
Min: £10.00
Max: £15.00
Standard - 9th January 2024
Min: £10.00
Max: £15.00
Standard - 10th January 2024
Min: £10.00
Max: £15.00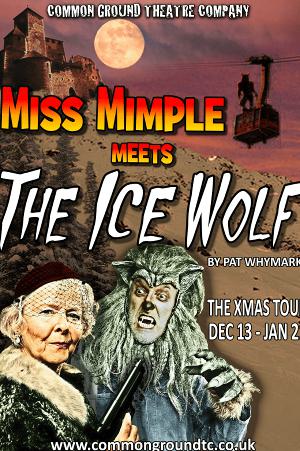 Miss Mimple meets the Ice Wolf

by Pat Whymark

Common Ground Theatre Company

Renowned amateur sleuth and part-time dog trainer Miss Jean Mimple is on a hiking tour of the Italian Alps. In a remote hostelry, she meets Dr Bridges, who invites her to help with the investigation into a murder at nearby Castle Pandoro. The locals at the inn warn her of The Ice Wolf - the "Bestia Gelato" - half man, half wolf, half frozen dessert. Undeterred, the plucky Miss Mimple sets off to investigate.
`