Live Nation Present Troy Hawke: The Greeters Guild
Charter Hall
Thursday 7th March 2024
20:00 - 20:00
Prices
Standard - 7th March 2024
Min: £21.00
Max: £22.50
-
Concession - 7th March 2024
Min: £22.50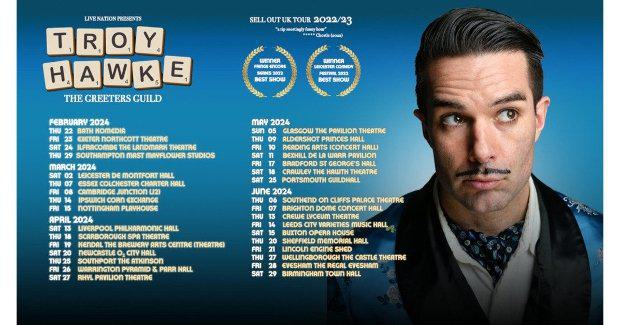 Troy Hawke - the Greeters Guild!

Everyone's favourite 1930's throwback greetings and compliments aficionado Troy Hawke returns to theatres nationwide with his brand new show.

A journey which started with a non-consensual customer service shift outside Tk Maxx in Macclesfield has lead him around the world and directly into the orbit of the world's biggest sporting figures. He's confused Premiership footballers, been threatened by heavyweight boxers and improved the vocabulary of Formula 1 legends.
`