Let There B/DC - The AC/DC Show
Colchester Arts Centre
Friday 23rd February 2024
19:00 - 19:00
Prices
Standard - 23rd February 2024
Min: £22.00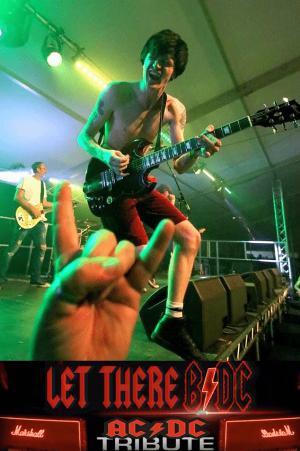 From the promoter of the original line up of AC/DC including Bon Scott on the Power Age Tour in 1978, John Hessenthaler presents *Let There B/DC - The AC/DC Show*.

What makes AC/DC such an exciting, pulse pounding band and how do we recreate the fire of their live performances

That's the main question we asked ourselves when we fired up the rock and roll train that was to become LET THERE B/DC way back in February 2011.

From the very start we knew it had to be raw, exciting and authentic as possible.

Recapturing the essence of an AC/DC performance was never going to be easy, but countless fans have told us time and time again that weve succeeded and are the closest thing they've ever heard to the real thing.

Our current five man line-up have had AC/DC running through their veins since childhood and our passion for the music injects the venom into every 2 hour plus show that we play.

We deliver all the favourites such as Highway to Hell, Whole Lotta Rosie and Thunderstruck together with rare and seldom heard album tracks such as Walk All Over You, Soul Stripper, Kicked in The Teeth and many many more.

With our 3 longest serving members consisting of Neil (Malcolm Young/Guitar), Paddy (Phil Rudd/Drums) and Steve (Cliff Williams/Bass) making up the engine room, it gives Dave (Angus Young/Guitar) and Andrew (Brian Johnson/Bon Scott/Vocals) room to really fly and take our show to a whole new level.

We pride ourselves on never usually playing the same set list twice, so you never know what you might hear!

Whether you've been a fan from the very beginning or never seen us live before, we go all out in every show to give you a night to remember for a very long time.
`