Claire Cansick: You and I Are Earth
Firstsite
Monday 30th October 2023 - Sunday 14th April 2024
00:00 - 00:00
Location
Lewis Gardens High Street
Prices
Standard - 30th October 2023
Free event
Standard - 31st October 2023
Free event
Standard - 1st November 2023
Free event
Standard - 2nd November 2023
Free event
Standard - 3rd November 2023
Free event
Standard - 4th November 2023
Free event
Standard - 5th November 2023
Free event
Standard - 6th November 2023
Free event
Standard - 7th November 2023
Free event
Standard - 8th November 2023
Free event
Standard - 9th November 2023
Free event
Standard - 10th November 2023
Free event
Standard - 11th November 2023
Free event
Standard - 12th November 2023
Free event
Standard - 13th November 2023
Free event
Standard - 14th November 2023
Free event
Standard - 15th November 2023
Free event
Standard - 16th November 2023
Free event
Standard - 17th November 2023
Free event
Standard - 18th November 2023
Free event
Standard - 19th November 2023
Free event
Standard - 20th November 2023
Free event
Standard - 21st November 2023
Free event
Standard - 22nd November 2023
Free event
Standard - 23rd November 2023
Free event
Standard - 24th November 2023
Free event
Standard - 25th November 2023
Free event
Standard - 26th November 2023
Free event
Standard - 27th November 2023
Free event
Standard - 28th November 2023
Free event
Standard - 29th November 2023
Free event
Standard - 30th November 2023
Free event
Standard - 1st December 2023
Free event
Standard - 2nd December 2023
Free event
Standard - 3rd December 2023
Free event
Standard - 4th December 2023
Free event
Standard - 5th December 2023
Free event
Standard - 6th December 2023
Free event
Standard - 7th December 2023
Free event
Standard - 8th December 2023
Free event
Standard - 9th December 2023
Free event
Standard - 10th December 2023
Free event
Standard - 11th December 2023
Free event
Standard - 12th December 2023
Free event
Standard - 13th December 2023
Free event
Standard - 14th December 2023
Free event
Standard - 15th December 2023
Free event
Standard - 16th December 2023
Free event
Standard - 17th December 2023
Free event
Standard - 18th December 2023
Free event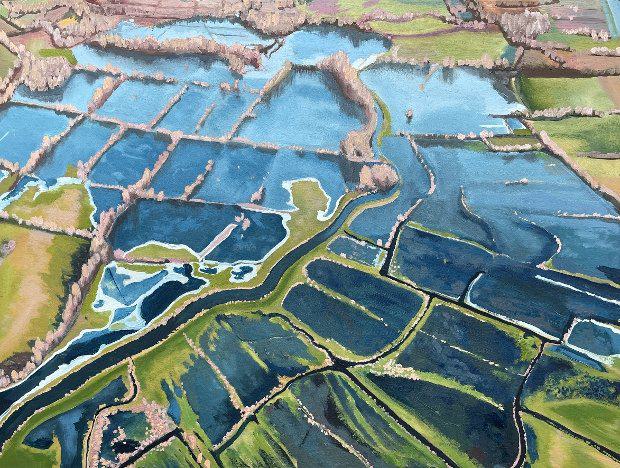 What effect do we have on the landscapes around us? You and I Are Earth charts the devastating effects of climate change and the human impact on the environment across the world.

Featuring over 40 paintings by Norfolk-based artist Claire Cansick, the exhibition depicts a spectrum of climate-related catastrophes, including wildfires, floods, droughts, historic storms, snowfall, war, deforestation, erosion, the proliferation of tornadoes, and the alarming warming of the Arctic.

Each artwork tells a compelling story of nature's relentless struggle against human actions and inactions.

'You and I Are Earth' is the culmination of a year-long project on global climate change weather events, a series of paintings based on the portrayal of these events through the TV news and social media.

Through her distinctive use of a limited colour palette comprising just four hues, she unifies her diverse body of work, emphasizing the interconnectedness of these global issues.

This exhibition serves as a call to action, imploring us to re-evaluate our relationship with nature and to take immediate steps to mitigate the devastating effects of climate change before it's too late.
`