Act V
Headgate Theatre
Monday 30th October 2023 - Monday 4th December 2023
10:15 - 10:15
Location
14 Chapel Street North
Prices
Standard - 27th November 2023
Min: £9.00
Standard - 4th December 2023
Min: £9.00
Standard - 13th November 2023
Min: £9.00
Standard - 30th October 2023
Min: £9.00
Standard - 20th November 2023
Min: £9.00
Standard - 6th November 2023
Min: £9.00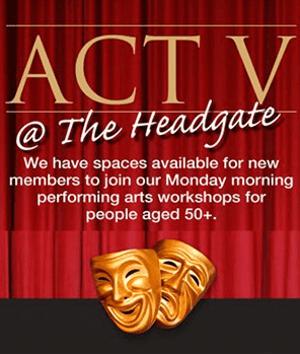 Act V is our bright and fun start to the week! This term has plenty of variety in, with sessions ranging from Aspects of Pantomime to a light hearted exploration of a couple of the Canterbury Tales, with the opportunity in other weeks to work in small groups to create short scripts within the session based on life experience. We will also be spending a session with the writer of one of the Colchester Fringe entries.

The only requirement for being part of Act V is a a willingness to participate and learn. No previous acting or theatre experience is required!

People wishing to book parking tickets to accompany a "season" booking should contact the box office.
`